5 Types of Escape Rooms To Bond With Your Teammates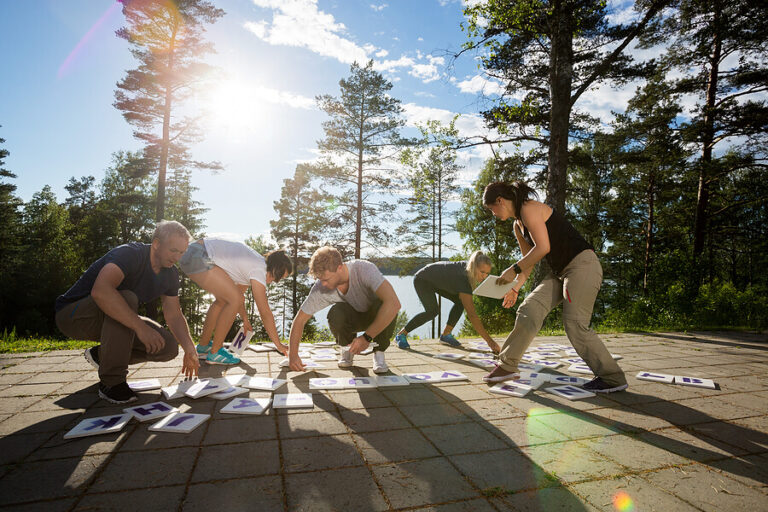 A group of individuals huddling together in a tiny space and looking for clues may be the first image that comes to mind when you think about escape rooms. While this description is not wrong per say, it paints a very dull picture of escape rooms, which is absolutely not the case. In fact, escape rooms have since evolved to offer a more immersive and unforgettable experience by coming in a wide array of themes, venues, atmospheres, and many more. As such, one can no longer say that escape rooms are repetitive and plain, when there are different types of escape rooms to partake in, and each one is not the same as the other.
To help you out, we have provided a list of 5 different escape rooms, all of which are catered to varying groups of people, and designed to meet certain preferences and goals.
1. Escape Room
As expected, we should start with the good ol' Escape Room. This is undoubtedly the most popular type out of all the other escape rooms as it can be considered the original version. Taking into account what we have mentioned above, Escape Room can seem rather unimaginative on the forefront compared to other types. Still, once you dig deeper, you will find that this activity effectively delivers what it needs to accomplish – encouraging team bonding.
At The Escape Artist, our Escape Room is all about being efficient, which explains why our event is hosted in our very own venue, making it accessible for everyone. Depending on the number of sessions you have signed up for, you and your team can look forward to spending around 90 to 150 minutes in the room. Escape Room is specifically designed for smaller groups that contain less than 32 people.
2. Mass Escape Game
Mass Escape Game is by far the most requested activity here at The Escape Artist, and it is not hard to see why. Catering to a larger group of around 50 to 200 people, Mass Escape Game is a wonderful team building activity for corporate and industrial events. What's more, this type of escape room can be hosted indoors and outdoors, so you can have the freedom to choose whichever venue best suits your convenience.
Our Mass Escape Game is essentially similar to Escape Room, but upsized to allow multiple groups to work together or have some friendly competition to see which group can manage to escape first. Some of the puzzles in our Mass Escape Game include defusing a bomb, playing memory games, and going through a laser maze, to mention a few.
3. Off-Site Escape Game
The title should be obvious. Our Off-Site Escape Game is an option for those looking for more customisation in their escape room experience. Whether you are planning to host the event in your preferred venue of choice or you have a particular theme in mind, The Escape Artist has the tools and experience to attend to different needs and expectations. Feel free to go all out if you want to because the possibilities are endless. Truth be told, even the puzzles can be customised and tailored to your requirements if you see fit.
4. Museum Escape Experience
We get it. There is just something special about museums and art galleries in general. Some people may see them as too isolating, while others find peace and serenity in being surrounded by precious art pieces and paintings. Regardless of which group you belong to, the vast space and imposing ambience of museums make them a great place to host an escape game, which brings along our Museum Escape Experience.
As you and your teammates venture around the museum to find clues and solve puzzles, you all can also take this opportunity to appreciate the artefacts and artworks on display, as well as take in a wealth of histories and cultures. At the end of the day, our Museum Escape Experience is all about bringing people together through educational experiences.
5. Virtual Escape Game
Last but not least, we cannot forget about our Virtual Escape Game. Many circumstances can result in teammates, students or colleagues not being available to attend an on-site escape room experience together. In such cases, our Virtual Escape Game comes in handy by allowing all participants to partake in an escape game in the comfort of their very own homes. Frankly, you can take part in this activity at any location, as long as there is a comfy space to relax in (the game will take a while!), a laptop or desktop, and a stable internet connection.
Conclusion
With many options to choose from, it is not surprising that escape rooms are becoming increasingly mainstream as a team building event. The various themes, storylines, set designs, atmospheres, and many more ensure that participants can always discover new escape game experiences. 
With The Escape Artist, we take one step further by offering a mass escape activity every once a month. Our past events see us collaborating with prominent venues like National Gallery Singapore, Battlebox, and Fort Siloso. As such, if you ever find yourself interested in taking part in an outdoor escape game and meeting new people, you can come on down by checking the confirmed venue, date, and time on our website.